Worksheets for learning and practicing the alphabet.
Character Recognition
Match the Letters

Your student will match the capital letter to its smaller letter.
---
Printing Practice
Practice the ABC's

This beginning worksheet will help your students to form the letters of the alphabet as they trace over each letter.
---
Practice Printing the Vowels

This practice worksheet will help your little one learn to print the vowels.
---
Practice Printing Round Letters

Help your student conquer printing the letters which are constructed primarily of a circle or arcs.
Practice Printing Angular Letters

This sheet will give your students practice forming those difficult slanting letters.
---
Practice Printing Straight Letters

In the english alphabet there are only a hand full of letters which consist only of straight lines.
---
Practice Printing Individual Letters
These pages will open directly to the PDF instead of a preview page.

---
TEACHING TOOLS
Flashcards
Animal Alphabet

This is a very cute set of ABC flashcards which has many uses.
---
Capital Letters

These colorful cards will help your student to identify the capital letters of the alphabet, and to recognize the sounds they make.
---
Uppercase / Lowercase ABC

These cards will help your student identify capital letters and their sounds.
---
Match Sounds to Pictures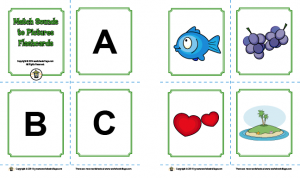 Students match letter sounds with pictures.
---
Large Display Letters
This set of 26 large letters is perfect for use on a bulletin board, above a blackboard, or in any spot which needs to be visible to the entire class. Pages will print on letter sized paper and can be trimmed to fit available space.
Note: This series of letter worksheets will open directly to the pdf , not to a preview page.

Large Display Letters: A through Z
All 26 letters in one pdf

---
Large Display Letters: A through Z
26 letters in individual pdf's